Don't leave great ideas behind
In many organizations, valuable ideas for solving problems, questions, and seizing opportunities often get lost. With Hives, you'll have an easy tool to collect, organize, and prioritize all the feedback & ideas in one place.






STOP GUESSING - START ASKING
See how you can use hives in your organization
Capture ideas & feedback in your organization
Collect ideas based on themes, challenges, or opportunities and start finding improvements and new solutions for your organization. All in an engaging and transparent way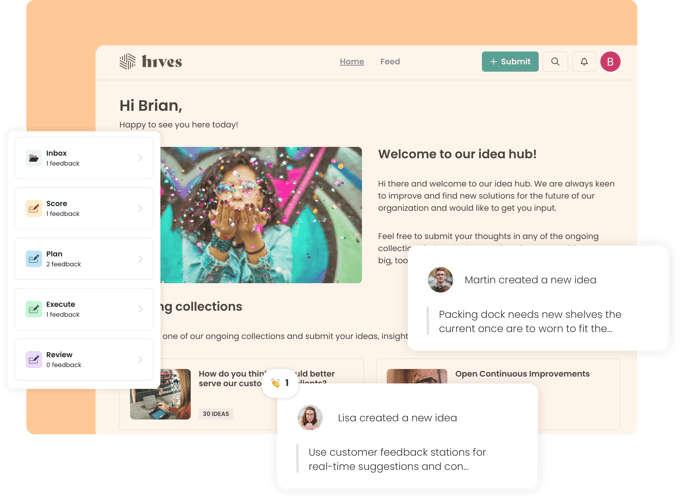 Manage, prioritize and track all the the ideas with ease
Get all the tools you need to help you qualify, manage, and prioritize which ideas to move forward. Use templates and workflows to keep track of it all.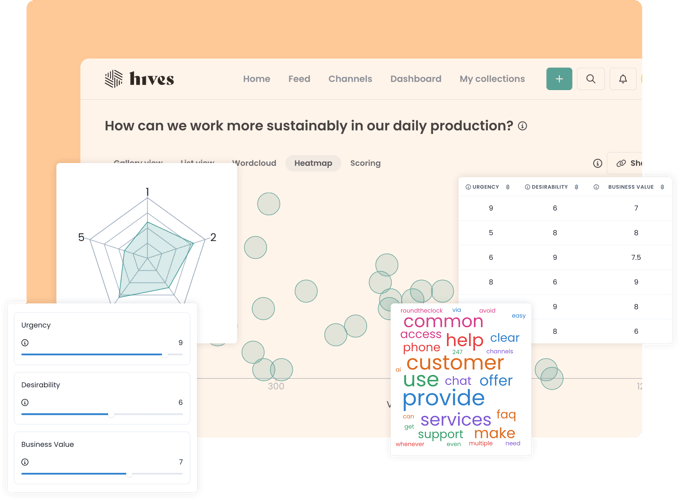 How to capture ideas in your organization with hives
Collect
Capture ideas effortlessly for your questions, challenges, or opportunities.
Organize
Tag, categorize, and assign ideas according to the input and structure you require.
Prioritize
Evaluate ideas based on their value and push them forward in the process.
Decide
Make informed decisions based on input from your team and organization.
Not to be braggadocious, but people really like it.
"Hives.co makes it not only easy to collect ideas and sort them, but it also makes it fun. I don't think there's a simpler tool to use on the market."
"Amazing platform must use for everyday business and company use."
"We liked how they kept things simple rather than create thousands of settings, instead everything was well thought through and this made it super quick to get started."
Get a demo and see how you can start capturing ideas in your organization
See for yourself how Hives.co can meet your business's unique challenges, needs, and interests. Fill out your email address to get your free demo.